Getting Richer
It's getting harder and harder to reach your customers in modern world and keep them engaged with your marketing campaign. Ads are becoming more ubiquitous and diverse while consumers tend to be well versed and experienced if talking about user engagement. As for now, it's truly impossible to address customers effectively using static and old-fashioned marketing tools. That's why it is so crucial to leverage your user engagement campaigns with rich media content.
Does Rich Media Really Rule the World?
There are several research-proven statistics saying that a marketing campaign simply can't live without decent visual aids. Here are some stats for you to be sure.
Researchers found that colored visuals increase people's willingness to read a piece of content by 80%
According to CMO Council, 65% of senior marketing executives believe that visual assets (photos, video, illustrations and infographics) are core to how their brand story is communicated.
73% of content creators plan to prioritize creating more engaging content in 2016, and 55% plan to prioritize creating visual content.
51.9% of marketing professionals worldwide name video as the type of content with the best ROI.
Eye-tracking studies show internet readers pay close attention to information-carrying images. In fact, when the images are relevant, readers spend more time looking at the images than they do reading text on the page.
These are only few examples proving that Rich Media is the new Power in today's marketing world and it is a must have tool in terms of personalizing user experience and broadening customer reach.
Rich is the New Sexy!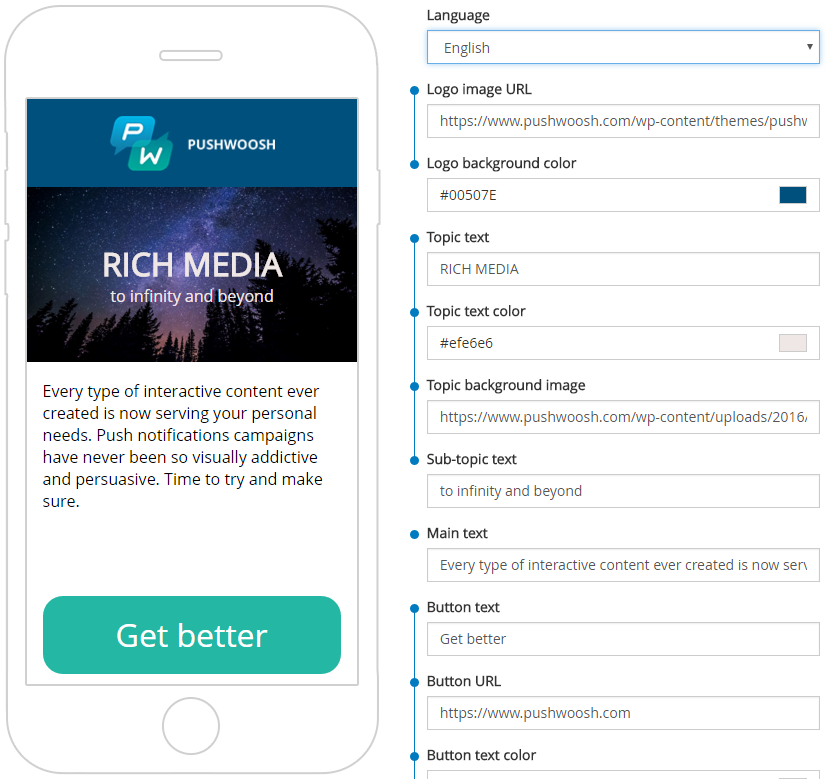 From now on you can empower your content with Pushwoosh Rich Media – a form of engaging content that should already be incorporated into your marketing strategy.
Send a deeply customized Rich Media page along with your push notification. Rich Media pages can contain formatted text, links, images, embed videos and other data. It allows to send colorful flyers, pictures and ads directly to your app. Rich Media pages are displayed in the web view, so you can easily come back to your application after closing the page.
Personalization
If you talk to a man in a language he understands, that goes to his head. If you talk to him in his language, that goes to his heart. Nelson Mandela
Rich Media is Multilanguage! Talk to your mobile or website audience in their own language. Make your push messaging more personalized and, as a result, more appealing.
Rich Media is Dynamic! Send deeply customized pages to every single subscriber. Make your push campaign personal, unique and thus compelling!
You can either choose from our default templates and customize it using multiple settings or upload your own page as a zip file. The Rich Media page can be attached to the push in the Action tab of the Send Push form.
Check our guideline to create professional templates.
New is Always Better
Please note that Rich Pages and HTML Pages will be deprecated gradually since Rich Media gathers all their features and much more! Thus you literally don't need them anymore. We will release various templates that fit most common cases across different industries.
Remember that we are always happy to get you feedback on help@pushwoosh.com and Contact Us form on our website. Follow us on Twitter and Facebook and never miss important updates and announcements.