Pushwoosh At Apps World London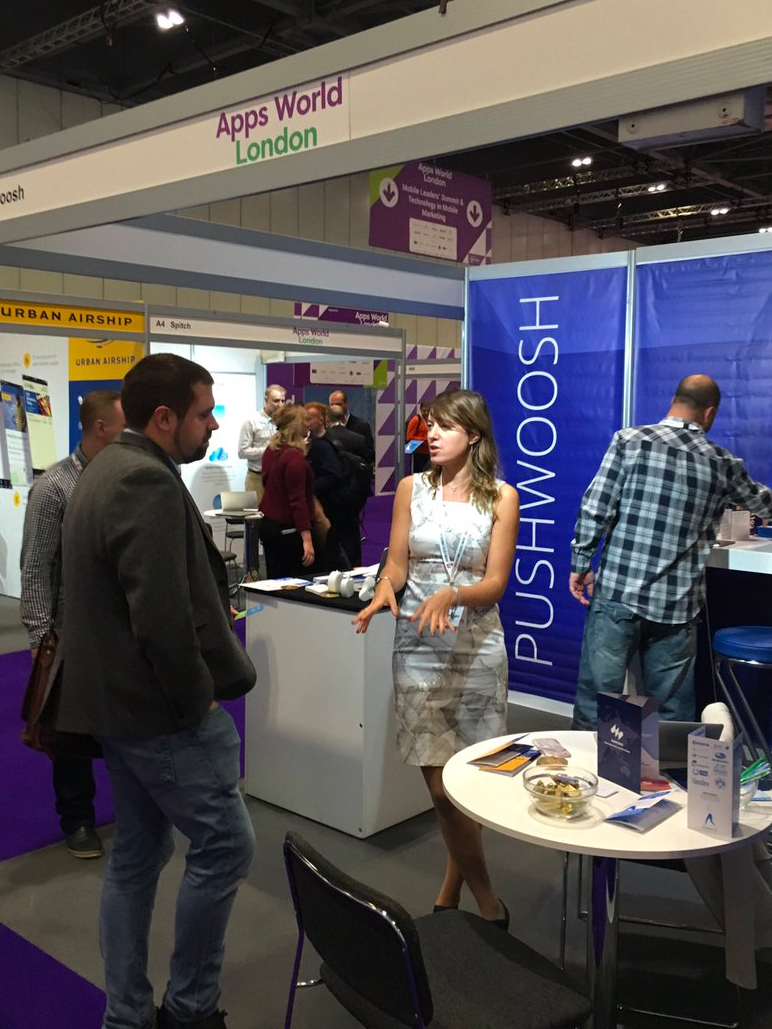 In the middle of October, Pushwoosh attended Apps World London, the huge mobile congress for everything Mobile. The conference aimed to bring together leading technologies and companies looking for ways to maximize ROI from the use of either Native or Web Based Apps. All of the participants had the opportunity to speak, listen and learn about current trends and challenges within the industry and how these companies are looking to overcome specific hurdles. The agenda was at the forefront of addressing relative market Intelligence and information; including numerous presentations, workshops, pitchfork competitions, panel discussions and case studies.
As the leading digital platform for Mobile push notifications, Pushwoosh was fortunate to speak directly with the development community and get both insights and retrospective regarding numerous topics that are mission critical for the entire app industry. It also helped us realize what particular improvements are a must to continue leading the mobile engagement industry.
The conference provided the comfortable space for developers and business decision makers alike to discuss the most viable topics of the industry.
Below, is the list of talking points Pushwoosh team discussed with Apps World London attendees:
Engagement of ongoing and prospective customers
How to avoid over-communication and reduce negative experience
Ability for organizations to use, leverage and segment their own audience to make messaging and communications more impactful
How to integrate Pushwoosh into your product
How to keep pricing competitive in the market. Specifically, when the out of the box features are far beyond the industry average
New and emerging features to address a growing need for Mobile Push Notifications
Partnership opportunities with other leading technology companies to provide added value to Pushwoosh and Partner Clients alike
How to maintain the leading role in Digital Engagement
Why Timely Customer Support is extremely vital to any SaaS company, and for Pushwoosh clients in particular
Lessons learned from success stories within multiple industries like Professional Sports, Hospitality, Media, Retail etc.
To be more precise we would like to focus on two of the most important topics discussed at the Conference.

Segmentation
Segmentation alone and the ability to dive deep into one's own data for high level and specified communications were consistently broached. Prior to years past, companies worried about trying to collect vital data across their businesses and today, the exposed challenge revolves around how to use this data in a systematic manner that provides competitive advantage to the organization. With Pushwoosh Segmentation features like Tags and Filters, companies can significantly boost their marketing marksmanship by building custom audience segments and address users with relevant and up-to-the-minute information. In summary, this simply means companies can provide relative content based on buying habits, trends, monetization, age etc. to the end users.

Customer Success
Today, organizations face the challenge of requiring real time assistance and communication from their service providers. At Pushwoosh, we identify and fully comprehend this very need by reaffirming the Pushwoosh commitment to provide the highest level of Customer Service within the industry. In order to attain this goal, we assign a personal Customer Success Manager to our Enterprise Tiered Clients. Not only will our Enterprise Clients receive an assigned CSM, they will also receive a team of Technical Support Managers to address situations in real time. This reduces response time, allows the same individual within Pushwoosh to become deeply engrained within the client's strategies, requirements and goals. In turn, this provides efficient resolve for anything the client requires. We sincerely believe in win-win cooperation and have already garnered excitement and interest from prospects and current clients alike by providing such a high level of service.
Special Thanks
We would like to thank our team for the great job they did representing Pushwoosh at Apps World London. Thank you, guys, you're the best!