With Pushwoosh SDK you can track in-app purchases in your applications out of the box, which is a really powerful marketing tool. You can segment your audience based on this criterion, and aim push notifications at non-paying users to convert them into paying ones. Or, you can upsell your products to those users, who have already bought specific products in your application during the chosen period of time.
Data about in-apps is gathered in our new default tag values:
In-App Purchase The total amount of money spent on in-app purchases for the device
Last In-App Purchase Date The date of the last in-app purchase made on the device
In-App Product Names of in-app products that were purchased on the device
All these tags are default Pushwoosh tags, and are available for all account types starting with Premium.
Considering all other tags (both default and your custom ones), there are plenty of ways you can combine them in Autopushes to automate the process of sending right upselling push notifications to the relevant audience with Pushwoosh, and it's really easy to set it up: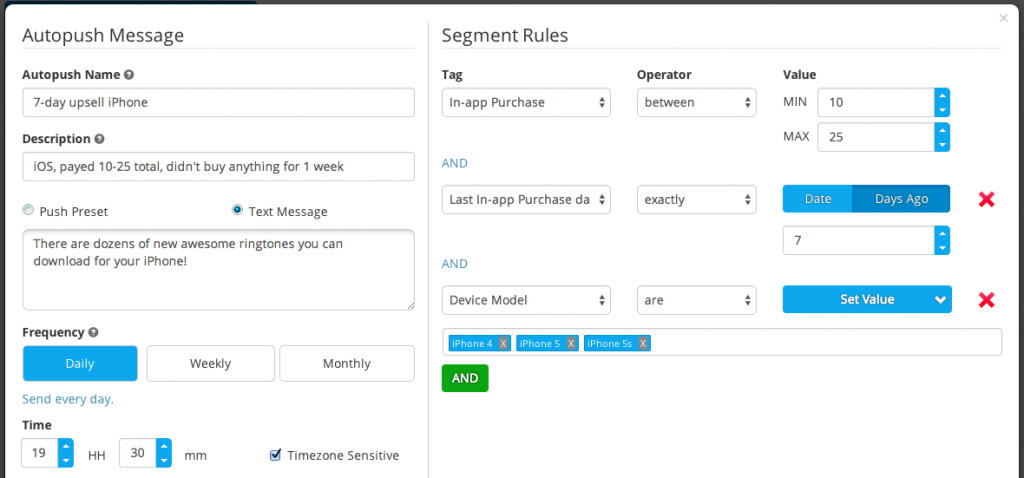 Setting up an Autopush based on in-apps and device types is easy – the upselling message will be sent to iPhone users who have spent between $10 and $25 on in-apps, one week after they have made the latest purchase.
---
Currently tracking in-app purchases is available for the following platforms:
iOS
Native and all third-party frameworks
There's no additional coding required from you – all in-app purchases are tracked by Pushwoosh SDK automatically when a user buys a product!
---
Android
Native apps only
In order to track in-app purchases you should call the trackInAppRequest method of the PushManager class when a user buys a product:
public static void trackInAppRequest(Context context, String sku, BigDecimal price, String currency, Date purchaseTime)
sku – purchased product ID
price – price of the product
currency – currency of the price (ex: "USD")
purchaseTime – time of the purchase (ex: new Date())
Example:
pushManager.trackInAppRequest(context, "com.example.inapp1", "1.99", "USD", new Date());
---
Windows Phone
When a user buys a product, call the following method:
service.TrackInAppPurchase(string productId, double price, string currency)
productId – identification of the product (also known as SKU)
price – price of the product
currency – currency of the price
Example:
service.TrackInAppPurchase("com.example.inapp1", "1.99", "USD");