Did you know that Pushwoosh automatically tracks Apple Revocation Lists to alert you in case an APNs Certificate is revoked?
If, for any reason, your certificate is revoked (expired, compromised, etc.), Pushwoosh settings for iOS apps become disabled and the reason for revocation is displayed in the control panel.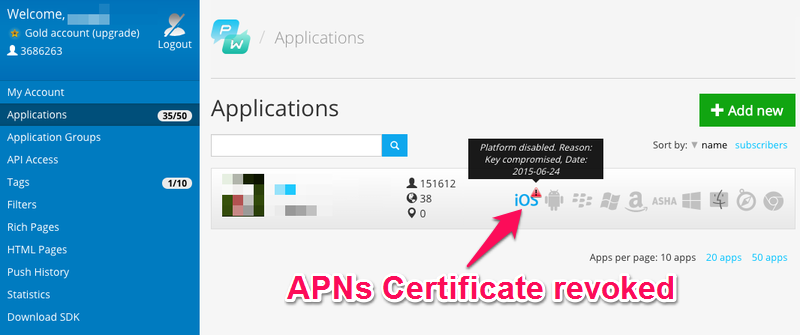 Check out some possible reasons for certificate revocation:
Key Compromise: someone who is not the key subject might have discovered the private key value.
CA Compromise: someone might have revealed the private key of the certificate issuer.
Change in Affiliation: the certificate subject no longer works for the organization.
Superseded: a new certificate is replacing an existing certificate.
Cessation of Operation: the certificate subject no longer requires the certificate.
Certificate Hold: you want to revoke the certificate temporarily.
Unknown: the revocation reason does not match any of the predefined reasons.
If your Apple certificate has been revoked, and you find yourself in this situation, go ahead and update your certificate manually or using our iOS Auto-configuration tool (available for Premium, Gold, and Platinum account holders). For more details, visit our iOS Configuration Guide.